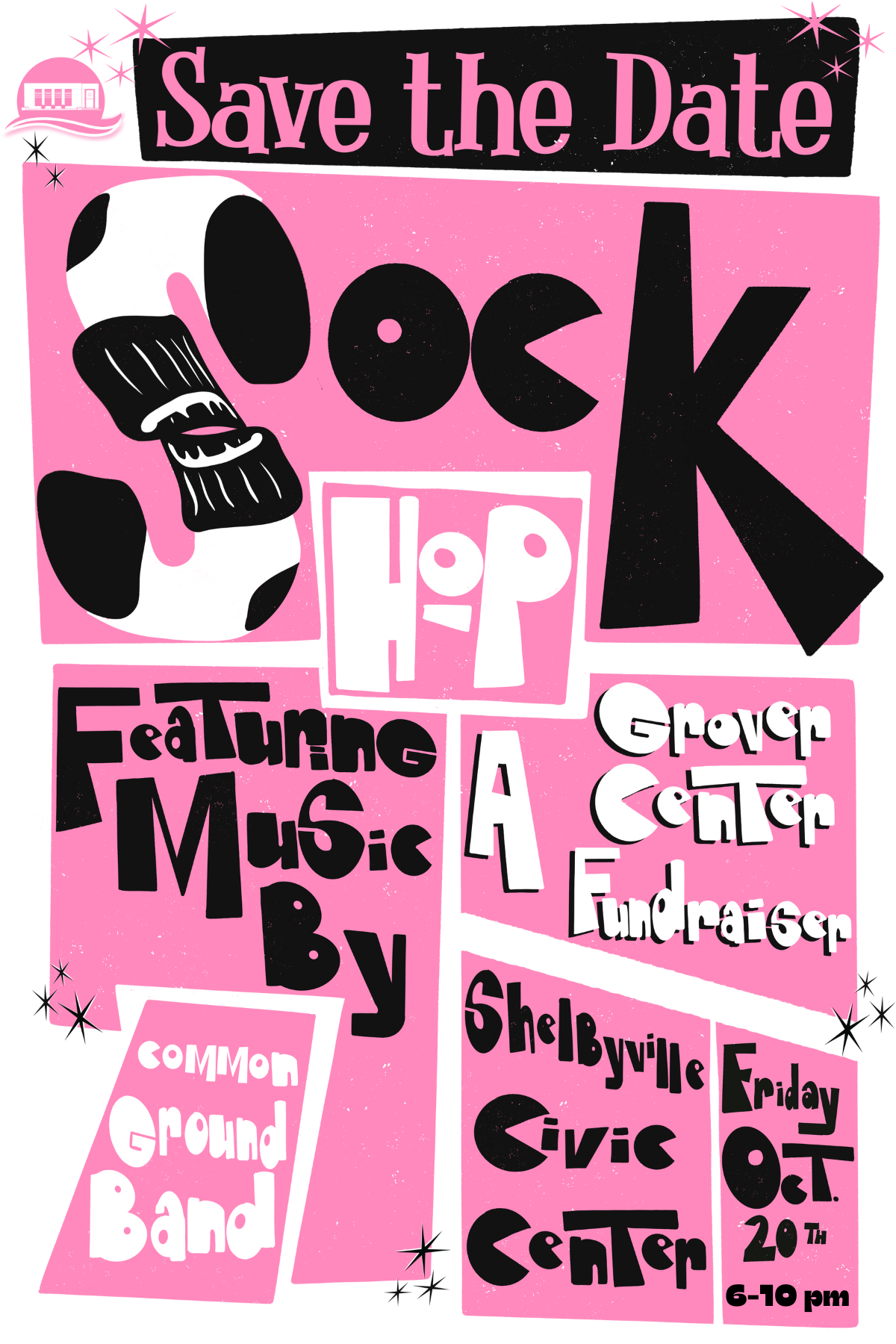 Friday, October 20, 2023; 6 PM to 10 PM
Get ready to jive, swing, and do the twist at Grover Center: Museum and Historical Society's Sock Hop fundraising event. Taking place on Friday, October 20th, at the Carl "Mac" McNeely Civic Center, this event will transport attendees back in time to the 1950s, while also supporting a great cause.
In true nostalgia-inducing fashion, the Sock Hop will set the stage for an evening of music and dancing that will even make squares feel hip. The band Common Ground will bring the house down, playing bops from the 1950s and 1960s. Get ready to cut a rug on the dance floor as they break it down with some contemporary favorites to keep the party rocking all night long.
Of course, you can't have a 1950s event without some cool treats and slick eats with an Americana theme. Grover Center has partnered with a local vendor to offer a selection of classic dishes that will transport taste buds back to the golden age of diners and drive-ins. Guests will be feeling as hip as James Dean or Marilyn Monroe as they eat these foods from yesteryear and sip on some special cocktails that pay homage to the iconic drinks of the 1950s.
In addition to the music and the food, the Sock Hop will also host a silent auction. Attendees will have the opportunity to bid on unique items or sponsor an artifact at the Center for a year, with all proceeds going directly to support Grover Center's mission of preserving and celebrating the rich local history of Shelby County.
Guests are encouraged to bust out their poodle skirts, lace up their blue suede shoes, or wear any other period-themed clothing.
Whether you're looking to boogie all night long or take a swinging trip through the 1950s, mark your calendars and save the date for Grover Center's Sock Hop on Saturday, October 20th. 
Tickets can be reserved by calling the Grover Center at 317-392-4634 or can be ordered at the Center or online at https://tinyurl.com/38k39r3h.
Upcoming Grover Events & Exhibits:
Saturday Stories
Check back soon for dates and information about our Summer Reading Program collaboration with the Shelby County Public Library!
Christmas in Old Shelby
Check back soon for dates and information about our annual holiday event!