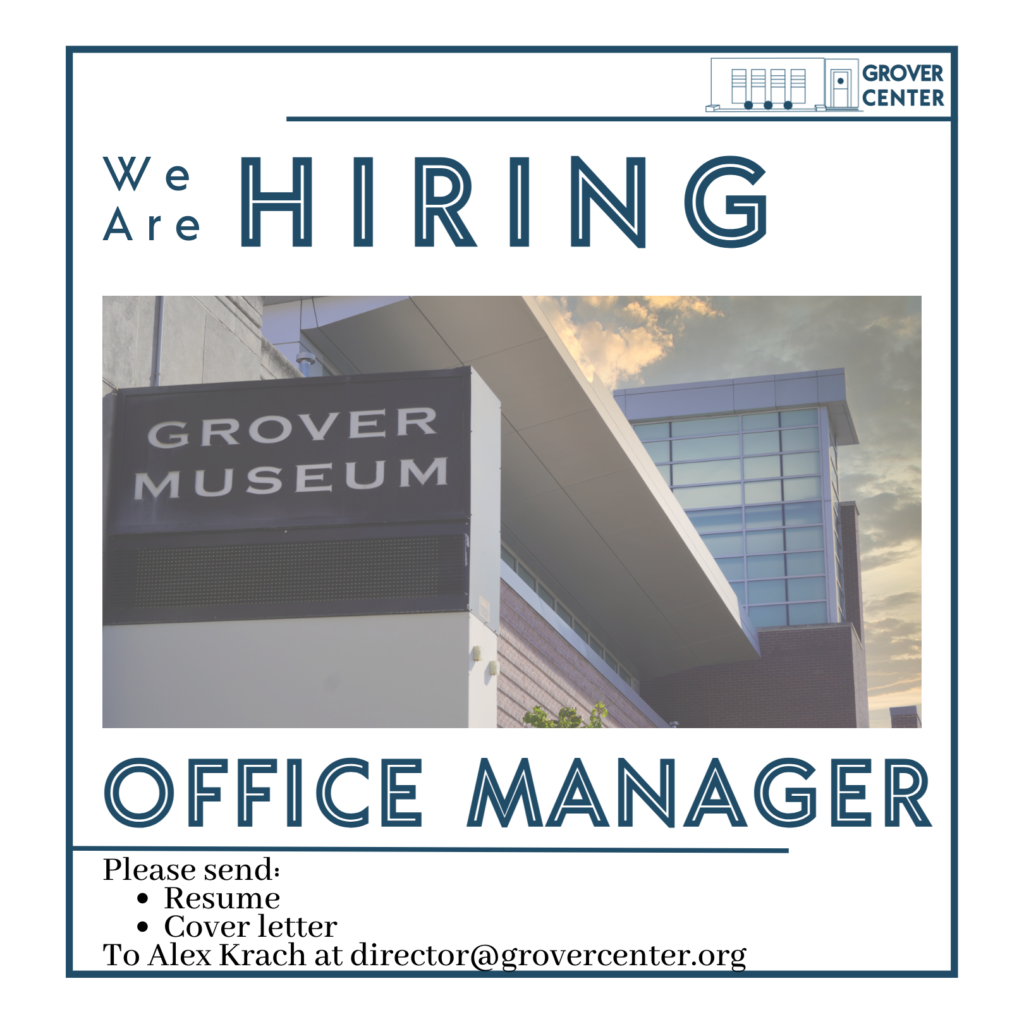 About the Grover Center: Museum and Historical Society
The Grover Center, owned by the Shelby County Historical Society, is a 501c3 not-for-profit historic organization committed to offering visitors educationally enriching experiences centered on Shelby County's history. Located in the heart of Shelbyville, Shelby County's county seat, the Center provides learning experiences through exhibits, workshops, and lectures, while also preserving artifacts from the community's past.
Position Summary
The Grover Center is currently seeking a dynamic and responsible individual to serve as Office Manager for the Center. Since the Office Manager will primarily oversee office operations and is often the first point of contact for all who enter the Center each day (including visitors, contractors, volunteers, donors, individuals seeking to donate artifacts, etc.), the candidate should be a self-starter, have a penchant for perfectionism, and will remain professional, personable, and engaged.
The Office Manager reports to the director of the Grover Center and fulfills tasks from the board of directors as assigned.
Responsibilities and Duties
Manage office operations

Monitor and order supplies for office, cleaning, kitchen, and events
Manage equipment and software lease agreements, maintenance contracts, etc.
Maintain financial records, files, and archives
Maintain donor mailing lists, recognition programs, and appreciation programs
Make deposits and process account payables under the direction of the treasurer
Answer telephone in a professional manner and direct calls to appropriate persons or take detailed messages
Make phone calls and follow up on outstanding issues
Communicate on behalf of Society with vendors, partners, and other stakeholders; advocating for the Society as appropriate
Revise/ write, as directed, office policies
Cover the visitor's desk, as needed
Maintain the office area in a professional manner
Create and prepare mailings.
Attend and take minutes at board meetings

Print and distribute information prior to and after the meeting to board members.

Provide resources for and assist with meeting
Safeguard confidential information and materials
Create correspondence with membership for Director approval
Assist with membership events, including:

Sending out mailings
Track responses
Arrange catering
Arrange outside venues, if required with Director's approval

Track volunteer hours

Serve visitors

Greet visitors and give tours, as needed
Provide excellent customer service
Track attendance

Reports issues as they arise to the director
Skills and Qualifications
Engaging personality and optimistic outlook
Ability to prioritize and organize work
Excellent written/ verbal communication and interpersonal skills
Strong knowledge of Microsoft Suite, Google Suite, and Quickbooks
Ability and willingness to learn other software, such as Past Perfect
Strong time management skills and the ability to meet deadlines
Highly motivated with a positive attitude and the ability to multitask and be flexible
Excellent customer service and communication skills
Self-started who works well independently
Preferred Qualifications
High School Diploma
2 years of administrative work, or related experience
Must be able to lift 25 pounds
The basic workweek shall, when practical, be fulfilled at the Center Tuesday through Saturday, 9:30 am to 4:30 pm. There are instances where the needs of the Center are served in the form of community outreach by either the Director or the Office Manager, representing the Society's interest at civic, social, or educational activities inside or outside of the Center. The Director and Office Manager will coordinate their time away from the Center during normal Center hours so that at least one of them will always be present when the Center is open to the public.
Compensatory and/ or flex time can be authorized by the Director for activities that are not part of the normal activities of the Center.
Any time spent beyond the regular working day can be adjusted accordingly by the Director, except for those job responsibilities outlined in the job description.
Please note this job description is not designed to cover or contain a comprehensive listing of activities, duties, or responsibilities that are required for this position. Duties, responsibilities, and activities may change at any time.
The Shelby County Historical Society and Grover Center considers individuals for all positions without regard to race, color, religion, creed, gender, national origin, age, disability, marital or veteran status, sexual orientation, or any other legally protected status.
Annual Salary
$33,665
Applicants should send a resume and cover letter to Alex Krach- [email protected], or mail to 52 W. Broadway St., Shelbyville IN, 46176.